Sell Your Car For Cash To Click Car Removal
If you live or work in and around Brisbane, and have a vehicle you no longer need or want, you might have asked yourself: 'How do I sell my car for cash and have it taken away without any hassle?'. The simple answer is to take advantage of our superb Click Car Removal car buying service. Here are three important reasons why:
A great price when you sell your car in Brisbane
We guarantee the best and fairest price for your vehicle. It doesn't matter whether your car is still quite new or maybe way past its best. You may simply no longer need it, or perhaps it has been involved in a fire, flood or accident. Whatever your reasons for wanting rid or your vehicle, it's well-known around Brisbane that we'll always offer honest value. We also accept cars that are scrap, junk, rusted, salvaged – or in any other condition. You'll receive a great value offer right up to $8999. That's for any make or model, year or condition.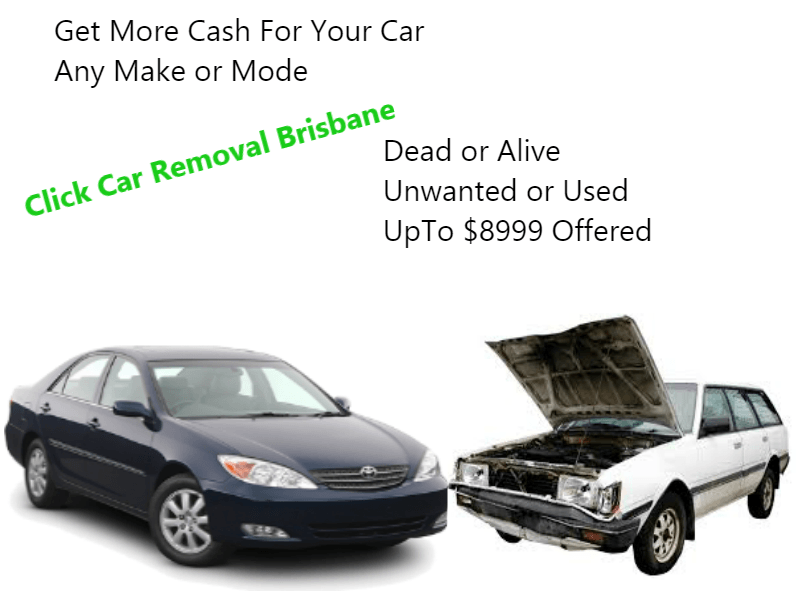 We save you all that removal hassle
Our collection and car removal service is free, right across the Brisbane area. When you contact us by calling 0490 185 300, or by completing the Get a Free Quote box on this page, one of our experienced service technicians will head to your location. Then your car can be inspected and removed at no cost to you. And, if you have more than one car to be rid of, our custom collection vehicles can remove multiple autos in a single visit – saving you the time and hassle of more than one appointment. We will offer you a fast pick-up, or convenient 24-hour-a-day car removal options, anywhere in Brisbane, and this also includes both weekends and holidays. We also provide a company vehicle fleet removal service.
We use only Eco-friendly car wrecking and recycling processes
We know you care about our precious environment, as do we. That's why, if you think: 'I don't want to sell my car in a way that is going to cause harm', Click Car Removal is your obvious choice. We never send the remains of your vehicle, which may still contain the remnants of fuel and fluids, to a landfill. Neither would we ever create a hazard by dumping it on an open plot.
Important points to know so that we can quickly remove your vehicle
When our expert technician arrives at your location, you'll need to show photo ID, have the Title of Ownership or Scrap Certificate for your vehicle, plus its plates. Your vehicle will need to be parked in a place where we can gain full access to carry out that vital inspection before a quote can be offered. Once an agreement is reached, we'll ask you to sign the sales contract, and your vehicle will be loaded. The whole process usually takes less than just one hour of your time, and often a great weight off your mind!.
Thinking 'it's time to sell my car'?
Contact Click Car Removal now to ask any questions or gain that quick, free, and fair quote. Our number is 0490 185 300 or you'll find the Request Form on this page. Complete it now and we'll quickly get back to you.
By the way…
…when we say 'cars' we also accept utes, trucks, jeeps, vans and many more vehicles – in fact almost anything on four wheels. Oh and motorcycles too! So, how can we help you?